Gilbert girls hoops trounce Cactus Shadows
February 18, 2022 by Les Willsey, AZPreps365

Gilbert girls basketball continued a postseason streak to be proud of on Friday night. The fourth-seeded Lady Tigers advanced to a conference semifinal for the sixth year in a row, dispatching #5 Cactus Shadows with ease, 57-32, in a 5A contest at the Jungle.

A chance at revenge is next. Gilbert (24-7) visits top-seed Flowing Wells on Wednesday at 7 p.m. Flowing Wells, the 2021 5A runner-up, moved on by knocking off #9 Ironwood Ridge, 56-45.

Gilbert's starters did all the scoring in balanced fashion. Meisha Caserio led with 20 points. Morgan Evenson and Saadia Salim added 10 points apiece. Maliyah Ross chimed in with nine points and Nicole Evenson finished with eight.

Cactus Shadows (22-6) never led and was outscored in every quarter. Gilbert took an 11-7 lead after the first quarter. The Lady Tigers improved the margin to 24-13 at the half. The balanced scoring and strong defense continued. Gilbert's starters totaled 7, 6, 5, 4 and 2 points the first 16 minutes. Its free-throw shooting was exceptional. Gilbert shot just two free throws in the opening half and made both. The second half totals from the line - 14 of 16. Caserio made 8 of 8.

Cactus Shadows didn't mind shooting threes throughout the game, but struggled from that distance - 3 of 16. The Falcons were led by junior guard Sierra Labuwi with 14 points and sophomore Camryn Koester (11 points).


POST SEASON HONORS
Congratulations to sophomore Meisha Caserio for being selected as the 5A San Tan Region Player of the Year!

Congratulations to sophomore Morgan Evenson for being selected as the 5A San Tan Region Offensive Player of the Year!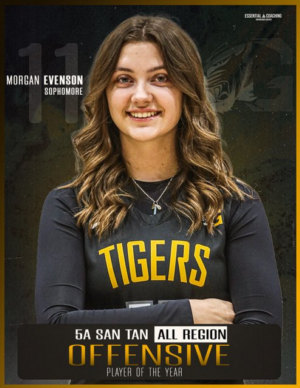 Congratulations to senior Nicole Evenson for being selected to the 5A San Tan All Region First-Team!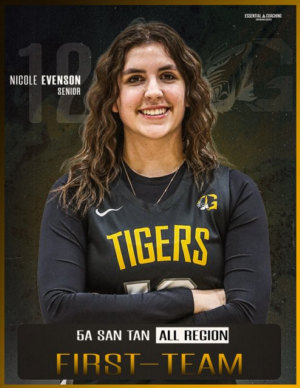 Congratulations to senior Maliyah Ross for being selected to the 5A San Tan All Region Second-Team!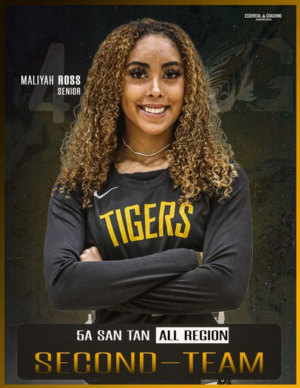 Congratulations to senior Saadia Salim for being selected as a 5A San Tan All Region Honorable Mention!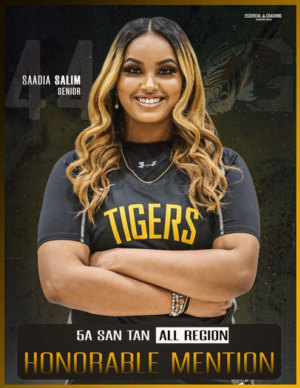 Strong finish pushes Gilbert girls past Casteel
January 20, 2022 by Les Willsey, AZPreps365

Gilbert's girls basketball team had one of those stretches Thursday night that seemed the impetus to a come-from-behind win over 5A San Tan Region rival Casteel. A 25-23 halftime deficit became a 33-25 Tigers' lead two minutes into the third period.

In the end, however, Gilbert needed - and conjured up - a second run in the fourth quarter that sealed a 58-48 victory over Casteel.

Gilbert collected its 17th victory this season against seven losses. The Tigers, #5 in the current 5A power-rankings, also took over first place in the San Tan Region with a 3-0 mark. #10 Casteel (13-8, 3-1) was in first entering the contest.

Sophomore guard Meisha Caserio paced Gilbert with 27 points - 10 in the fourth quarter. The Tigers 39-38 edge to begin the final quarter ballooned to 53-42 with 4:04 to go. Three successive layups (two by Caserio and one by Morgan Evenson) off turnovers and a fast-break halted Casteel's last rally with its deficit at the 4:04 mark growing from five to 11 in 30 seconds. Evenson joined Caserio in double figures with 12 points.

Maci Hess paced Casteel with 16 points - eight in the final quarter. Megan Jones added 12 points. Both teams are idle until Tuesday (Jan. 25) - Casteel hosts Campo Verde and Gilbert entertains Higley.
Gilbert steadfast in 42-36 win over Horizon
January 6, 2022 by Les Willsey, AZPreps365

Gilbert's girls basketball team appears to have shaken off a three-game losing streak that ended the 2021 portion of the 2021-2022 season.

The Tigers won their second game in three days after the holiday break with a solid 42-36 victory over Horizon at Gilbert High.

The triumvirate of Meisha Caserio, Morgan Evenson and Maliyah Ross tallied 40 of the Tigers' 42 points in a game #7 (5A power-rankings) Gilbert never was behind. A 9-0 lead midway through the first quarter paved the way. Caserio led all scorers with 18 points, Evenson added 13 points and Ross chipped in nine points. Gilbert improved to 14-6 this season while Horizon fell to 9-7.

Caserio netted 11 of her points in the first half helping Gilbert forge a 23-19 advantage. Evenson and Ross had eventful third quarters. Evenson led Gilbert's perimeter game hitting 3 of 5 threes - two of those in the third that helped for a brief time elevate the Tigers' lead to 35-25. Ross's offense came in the paint and free-throw line (3 of 4).

Mia Brown, Samantha Sebastiani and Noel Gallegos did the bulk of Horizon's scoring with 10, 9 and 8 points, respectively.

Both teams are set to play their third game this week on Friday. Gilbert plays host to formidable and #5 Millennium. Millennium's only power-ranking loss is to 6A #1 Valley Vista earlier this week. Horizon is on the road again visiting Verrado.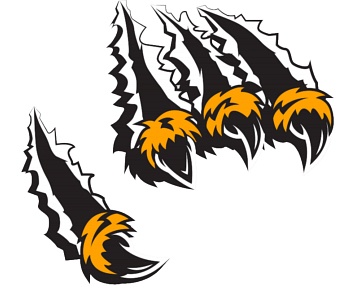 Statistics available on our
MAXPREPS PAGE