Gilbert drops Casteel, 52-43
January 14, 2020 by Les Willsey AZPreps365

Gilbert girls basketball was expected to fall off some after finishing 5A state runner-up last season and graduating three players who are now playing Division I college hoops. The fall off hasn't happened yet.

New coach Dennis Carter's No. 2 ranked Tigers took control of its San Tan Region battle with No. 10 Casteel late in the second quarter and remained steadfast in posting a 52-43 victory Tuesday night at The Jungle.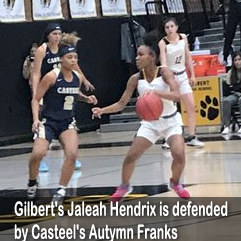 Senior guard Alayna Benavides-Johnson paced a second-period surge that put Gilbert in front for good. One of two starters back from a year ago - Benavides-Johnson (a.k.a AJ) - reeled off 11 consecutive points of her game-high 23 to turn a 21-16 deficit into a 29-24 halftime lead. The Tigers exhibited strong defense throughout and made plenty of free throws to reject any serious thoughts of a Casteel comeback in the second half.

Carter wields a mild-mannered demeanor. With a roster chock full of players without a lot of varsity experience, he and his staff have quietly delivered a competitive, hard-working squad.

"We stress 'we is greater than me', Carter said after his team ran its record to 12-5 overall and 9-0 in power-ranking games. "It's all about teamwork. We are young. They've bought in to how I want them to play."

Casteel led early 5-0 and managed a 16-14 lead after the first eight minutes. That lead grew until Benavides-Johnson started her scoring run with 2:57 left before halftime. Benavides-Johnson was 6 of 6 from the free-throw line in her burst, sank the Tigers lone three and made a nice driving lay-up. She finished 8 of 8 from the line and connected on 7 of 12 field-goals

Also producing a strong performance for Gilbert was sophomore point guard Jaleah Hendrix. Hendrix finished with 10 points. She played point guard on the JV team last year.

Casteel (10-8, 8-2 prg) wasn't too shabby last year either, reaching the semifinals where it was eliminated by eventual champion Millennium. The Colts brought back a very experienced squad with four returning starters. Junior Daeja Johnson, who led Casteel in scoring last year, is doing so again at 15.5 per game, Johnson scored a team-high 19 points in this one - 10 in the final period. Casteel trailed 38-31 heading to the final period, but couldn't draw closer than five - that in the opening minute of the quarter. Teammate Autymn Franks followed Johnson in scoring with 10 points - all in the first half.
Visit our MAX PREPS page for more statistics and score details.
Senior Night
for the
Lady Tigers
February 07, 2020